WildHorn Outfitters Safe Seaview 180° V2 Full Face Snorkel Mask, Large - Citrus for $70
---
Check Out Now
Expires July 09, 2120 08:05 PST
Buy now and get 35% off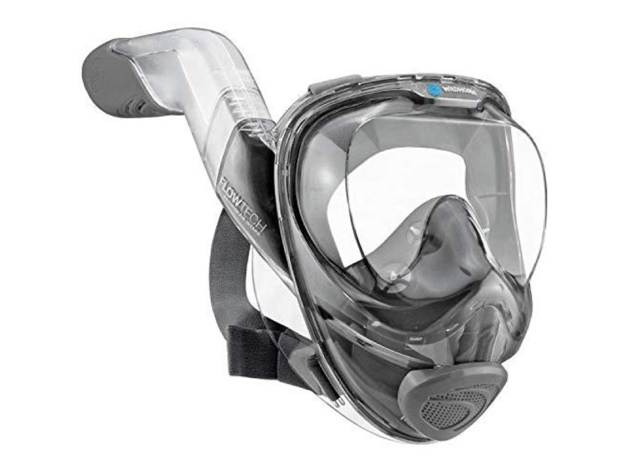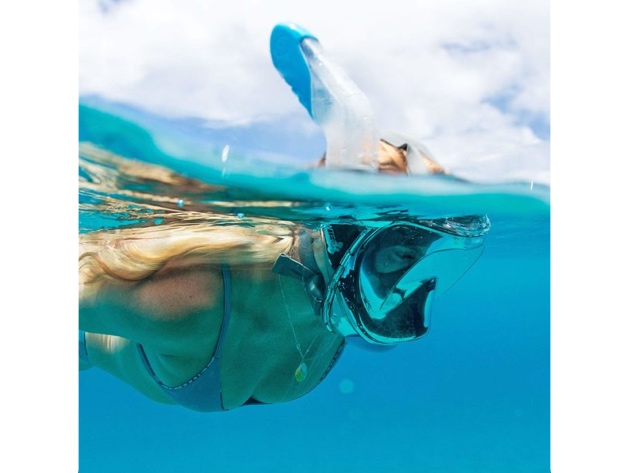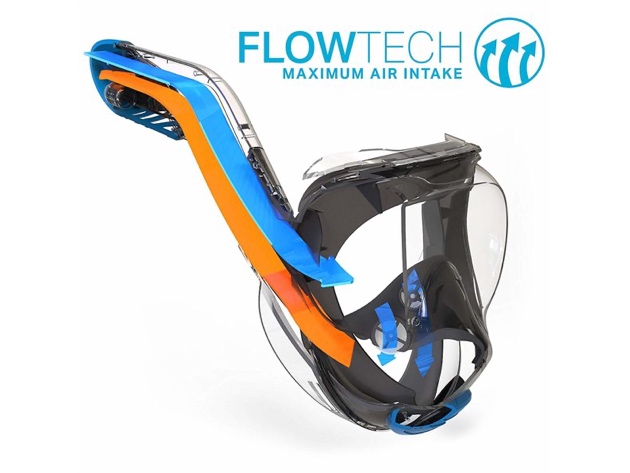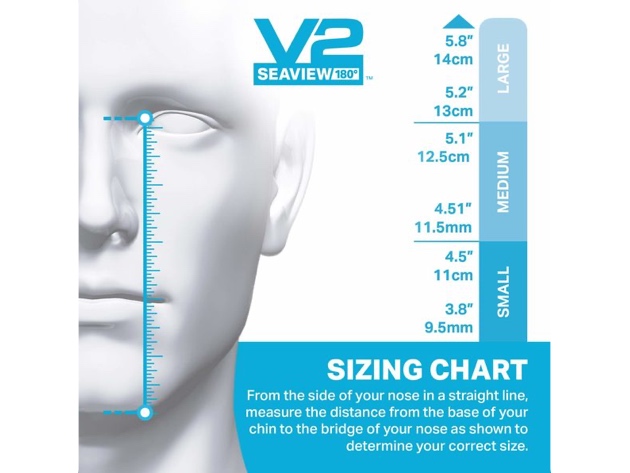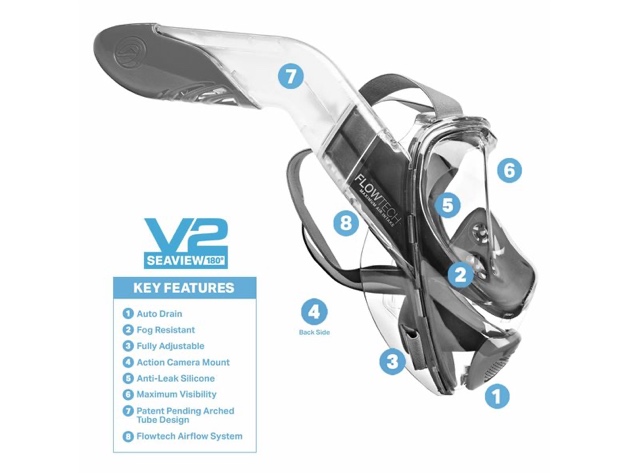 PRODUCT SPECS
WildHorn Outfitters Seaview 180° V2 Full Face Snorkel Mask with FLOWTECH Advanced Breathing System - Allows for A Natural & Safe Snorkeling Experience- Panoramic Side Snorkel Set Design.
Specifications:
FLOWTECH ADVANCED AIR INTAKE SYSTEM- Breathe naturally and comfortably through your nose and mouth. Flowtech has two chambers and 4 intake valves to allow air to circulate in and out freely. Using one-way valves and a separate breathing chamber ensures fresh air is always circulating through the mask. Flowtech provides 50 percent easier work of breathing compared to other full-face snorkeling masks on the market. This combined with safe levels of CO2 make this the best full face snorkel mask

DESIGNED AND TESTED IN THE USA - The Seaview 180° V2 snorkeling mask was created by our team of experienced product designers and engineers. Through meticulous iteration, we improved the airflow, visibility, fit, camera mount and safety of the full face snorkeling mask experience. The Seaview V2 launched on Kickstarter in 2018 and was backed by thousands of people. We used 3rd party experts to measure the airflow and CO2 elements of the mask to ensure safe user experience for all.

IMPORTANT SIZING TIPS- Full face snorkel mask adult sizing is important to get right. Be sure to measure from the bridge of your nose (between your eyes) to the tip of your chin. Measure along the side of your nose, not over the top. Follow the sizing chart. If you are in-between sizes, it's usually best to select the smaller size. For the best seal, you may need to tweak the placement of the mask on your face until you have the most comfortable fit. Be sure to test in a pool before your trip.

ENHANCED FEATURES- The patent-pending angled tube design allows for less restricted, two-way airflow. The angled snorkel tube stays above water more easily and gives your head more freedom of movement. The viewing area is 20 percent larger to give you more visibility. The camera mount now swivels and is located near the chin to stay underwater more easily. The ergonomics and fit are much improved. Lastly, the additional one-way valves and separate breathing chamber help to reduce fogging.

PROPER USE- Full face snorkel masks are designed for leisure surface snorkeling. Serious freediving is not recommended because you cannot equalize. Strenuous swimming while wearing any type of snorkel, including full face designs, is not recommended. A strenuous swim requires friction-less breathing. Be sure to take regular breaks while snorkeling. Also follow the buddy rule: never snorkel alone. Become familiar with your gear before you go. Try it in a pool and make sure it fits and seals.
MAXIMUM FRESH AIR INTAKE: Our patent-pending Flowtech system provides natural breathing through both your nose and mouth. Traditional snorkel masks only allow for one constrained passage way for air through the mouth. Flowtech has two chambers and 4 intake valves to allow air to circulate in and out freely. This creates airflow with less resistance and more fresh air circulating through the mask. More fresh airflow and better circulation mean less fogging, better visibility and more confident breathing. The benefits of our innovative Flowtech system ultimately result in a much more enjoyable and safer snorkeling experience.
WILDHORN COMMITMENT TO SAFETY: We conducted computational fluid dynamics testing on the Seaview 180° V2 to measure airflow resistance and CO2 buildup. The results show airflow resistance that is well within EN250 work of breathing standards. Low resistance airflow allows fresh oxygen into the mask at high rates and provides a comfortable breathing experience. This airflow, along with 5 one-way check valves, reduces and keeps CO2 levels well within safe limits. We continue to test using more instrumentation as they become available to us.
GET THE RIGHT FIT: The right fit will keep the water out, decrease chances of fogging, and improve your overall experience. From the side of your nose in a straight line, measure the distance from the base of your chin to the bridge of your nose. The lower chamber should seal nicely around your nose. The outer skirt should seal nicely around your face. Clean-shaven conditions work best. Remember to prepare your mask before use for additional resistance from fogging.
VISIBILITY: You'll see way more than you ever have before. The Seaview 180° V2 lens has been designed and refined to allow for up to 20% more viewing area over current full-face snorkel mask options.
BREATH NATURALLY: Our unique patent-pending 'Flowtech Maximum Air Intake System' allows for less resistance and natural breathing through both your mouth and nose.
ANTI-LEAK: The durable silicone insert creates a comfortable watertight seal that will keep you snorkeling all day. Any water that does get in simply drains out the one-way chin valve when you tilt your head back.
FOG RESISTANT: Our innovative design features a separate breathing chamber with twice the ventilation of most other full-face designs to maximize fresh airflow and reduce fogging.
ACTION CAMERA MOUNT: Custom designed, removable action camera mount (fits all GoPro cameras) with ball-point adjustment.
AUTO DRAIN: A one-way drain system is integrated into the base of the mask to allow any water that does happen to get in to simply drain out when you surface. No 'purging' or removing the mask to release water.
FULLY ADJUSTABLE: THE SEAVIEW 180° V2 features a dual elastic strap system that is fully adjustable allowing you to customize your mask for the perfect fit.
DESIGNED & TESTED IN THE U.S.A: Wildhorn is a U.S. company committed to constantly innovate and expand boundaries. The Seaview 180° V2 adds several quality features to create an unmatched snorkeling experience.
Technical Details:
Color: Stealth
Size: Large
Product Dimensions: 11 x 8 x 6 inches
Item Weight: 1.8 pounds
---
Check Out Now