Astro Gaming Superior Fit A40 TR Headset + MixAmp Pro TR for PS4 (Refurbished) for $139
---
Check Out Now
Expires October 20, 2121 23:59 PST
Buy now and get 44% off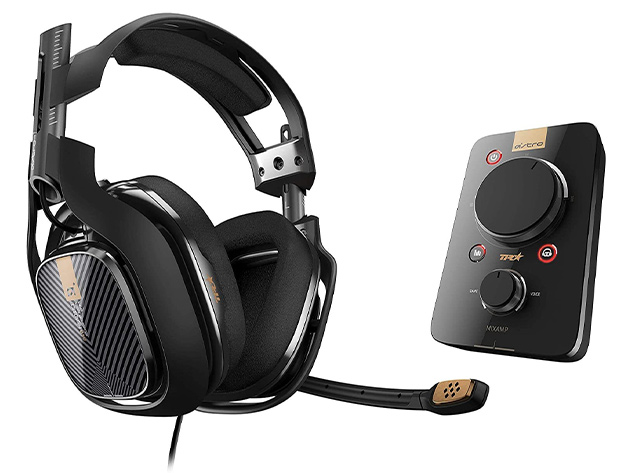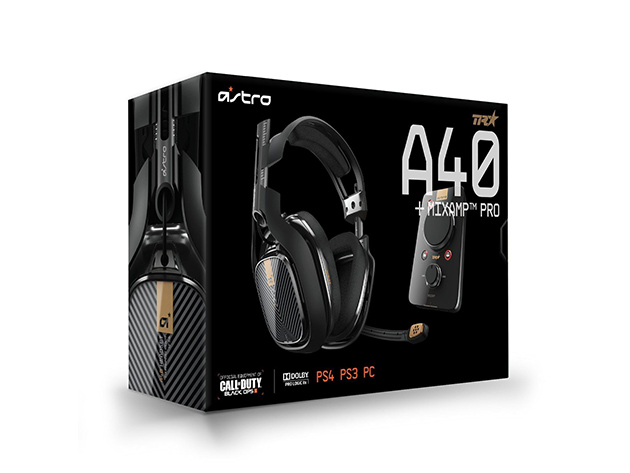 KEY FEATURES
The ASTRO A40 TR Headset + MixAmp Pro TR is the premier audio solution for esports athletes, content creators, and streamers. It meets esports athletes' rigorous standards for audio fidelity, comfort, and durability. The MixAmp Pro TR features Dolby® Digital Surround Sound processing and enables lag and interference-free delivery of game sound and voice communication. The A40 TR arrives as an open-back headset featuring a swappable precision mic and customizable Speaker Tags. For loud tournament environments, the headset transforms into a closed-back, noise-isolating headset by adding a Mod Kit (sold separately) with sealed Speaker Tags, synthetic leather ear cushions, and a voice-isolating microphone.
Tuned with ASTRO Audio V2 - Tuned for Gaming, ASTRO Audio V2 delivers pro-quality audio for gamers when they need it most, whether live streaming to competitive play in the pits of a pro tournament
Superior fit & finish - The A40 TR features lightweight yet rugged construction with premium materials for a pressure-free fit that won't overheat your head. The ear cushions feature cloth for maximum comfort, backed with synthetic leather for the best acoustic performance
Swappable boom microphone - Highly sensitive uni-directional mic that focuses on your voice & minimizes background noise. It can be positioned on either side of the A40 TR headset
Customizable Speaker Tags - Our patented magnetic Speaker Tag system lets you personalize your headset - purchase special editions or design your own using our online Speaker Tag Customizer
Mod Kit Ready - Features synthetic leather noise-canceling ear cushions, voice-isolating mic, padded headband, & closed-back Speaker Tags
Refurbished Rating
This product is listed with a grade "A". It arrives in a near-mint condition and may have very minimal to zero amounts of scuffing on the case.
PRODUCT SPECS
Specs
Color: black
Materials: ABS, electronics
Dimensions: 3.75" x 7.75" x 3.75"
Weight: 12.8oz
Sound power out: 100 dB SPL
Sample rates:


Game audio: 48 kHz @ 16 bit
Chat audio: 16 kHz @ 16 Bit

USB standard: USB 2.0 full speed & USB Audio 1.0
Stream Port (Line out)


Frequency response 20 - 24 kHz

USB Game & USB Voice (Chat), Aux port line out


Frequency response 20 - 8 kHz

Audio inputs

USB Game & USB Voice, Aux port line in


Frequency response: 20 - 24 kHz

Total Harmonic distortion: < 0.05% @ 0 dBFS
Signal to noise ratio: > 70 dB
Transducer Principle: dynamic, open 40mm sound driver tuned for gaming
Frequency response: 20 - 20,000 Hz
Nominal impedance: 48 ohms
Tuned with Astro Audio v2
Mod kit ready
Dolby® audio
Customizable speaker tags
Swappable boom microphone
Superior fit & finish
USB soundcard functionality
Digital daisy chain
Customizable stream output
Game voice balance
Comes with retail packaging
Compatibility
Includes
Astro Gaming Superior Fit A40 TR Headset + MixAmp Pro TR for PS4 (Refurbished)
MixAmp Pro TR
2.0m A40 inline mute cable
3.0m TOSLINK optical cable
3.0m Micro-USB cable
Quickstart guide
0.5m Daisy chain cable
---
Check Out Now